09.06.2017
---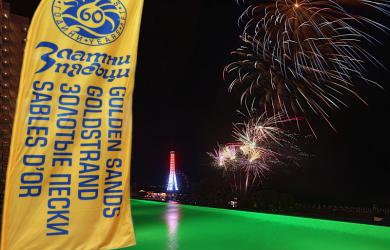 The first hotel in the resort "Golden Sands" was opened in June 1957 and this marked the beginning of "The Pearl of the Bulgarian Black Sea coast", but the story goes back quite back in time, when in 1915 Shkorpil brothers suggested in the region of "Uzun Kum / The Long Sand /" to build a sanatorium. Then the idea is not carried out, but in 1924 Karel Shkorpil persuaded the commission, chaired by Petar Stoyanov – the mayor of Varna at that time, that "Uzun Kum" is the best place for children's sanatorium. In front of the committee, Karel Shkorpil grabs a handful of sand and says, "Look how clean and yellow the sand is. This is a "Golden sand".
On June 8th, this year, celebrations marking the 60th anniversary of the resort "Golden Sands" started with an exhibition of large canvases, placed on tripods in the lobby of the iconic complex of the International Hotel, including 60 photos from the past and present of the resort.
The Regional Governor of Varna District, Stoyan Passev met with representatives of the biggest international tour operators - TUI, DER Touristik, Thomas Cook, Alltours, Schauinsland, Anex Tour, Coral Travel, Pegas Touristik, Intourist.
Then Jubilee was held workshop on "Prospects for the development of Golden Sands", which was attended by over 120 representatives of hotel owners of "Golden Sands", tour operators and tour agents. Many borough and useful statements made - Minister of tourism - Nikolina Angelkova, Deputy. Minister of Works - Denitsa Nikolova, adviser tourism Council of Ministers - George Nikoltchev, Mayor of Varna - Ivan Portnih, the governor - Stoyan Pasev, Mayor of Aksakovo and Chairman of The Association of Bulgarians They seaside communities - Atanas Stoilov, director of the Regional Directorate of the Interior Ministry Varna - Senior Commissioner Daniel Pashov Ivaylo Chevarganov - Executive Director of "Golden Sands" JSC and others.
At the press conference with the participation of journalists from foreign and Bulgarian media was presented the concept of tourism development in Bulgaria and in particular of the region.
There was an exquisite cocktail where more than 300 former and current employees of the complex were invited. The doyenes in building and confirming the image of the resort. "Golden Sands" were honored with special commemorative certificates by the Minister of Tourism of the Governor and the Mayor of the city, such as working from 1964 in the resort Kosta Milchev, was awarded a special prize by the Ministry of Tourism. Hosts of the International Hotel had prepared sophisticated gourmet challenges, and the Akaga virtuosos were taken care of by the good mood. Elegant keeping of all events by Gergana Stoyanova was appreciated by all attendees.
The celebrations ended with a 10-minute fireworks from the beach and many memories of everyone who met after so many years.
With wishes for many more successful seasons, the celebration of the 60th anniversary of the resort was completed. "Golden Sands", but also with an announcement for the continuation of the celebrations throughout the current summer 2017th.